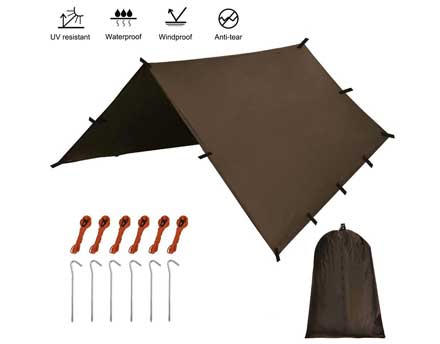 Tarp tent
It could use as Camping Rain Tarp Shelter, Backpack Tent Tarp, Sailboat Shade Tarp, Hammock Rain Fly, Shade Tarp for beach/park.
A premium collection of ultralight, mobile shelters that shed everything from flying bugs to summer snow. It include all the accessories, just need combined with ground stake, offering users shade and protection from the elements.
This camping tarp shelter is easy to learn and set up. Come with all the accessories you will need to set up it and can finish within 5 minutes. One drawstring closure pouch for easy storage and keeps it tight, secure, and snug when the rain hits.
When nature doesn't play nice, fight back with the most flexible and complete tarp set up that you can buy. Waterproof premium materials with unique processes, tested to stay taut and windproof better. The best gear you can count on, make your camping trip more comfortable and enjoy the great outdoors while remaining almost totally protected from the sun's harmful UV rays with the " double-wide" PU coated polyester of this shelter.